MISE À JOUR COVID-19


ALTRO LLP ENTIÈREMENT OPÉRATIONNEL

AVOCATS TRAVAILLANT À DISTANCE

Altro LLP (le «cabinet») demeure pleinement opérationnel pendant cette période sans précédent de pandémie mondiale et de fermeture imposée par le gouvernement des lieux d'affaires non essentiels en Ontario et au Québec, où le cabinet a ses principaux bureaux. L'environnement actuel a forcé la plupart des entreprises canadiennes, les clients du cabinet ainsi que le cabinet lui-même, à trouver des moyens alternatifs de faire des affaires et de s'assurer que les clients sont servis en temps opportun, tout en assurant la sécurité des membres de l'équipe et des clients.
Les organismes régissant les avocats et les notaires en Ontario, au Québec, à New York et en Floride ont tous publié des conseils et des pratiques exemplaires pour les avocats pendant cette période. Le cabinet a mis en place des procédures efficaces pour ses avocats et notaires canadiens et américains afin de servir efficacement ses clients pendant cette période conformément à ces lignes directrices et aux meilleures pratiques.
Read a blog by Zaina Kottis, Ontario Lawyer, on the new Wills and Powers of Attorney rules due to COVID19 entitled: Virtual Witnessing of Wills and Powers of Attorney in Ontario.
Les besoins fiscaux et juridiques nationaux et transfrontaliers de nos clients particuliers et entreprises restent la priorité du Cabinet. N'hésitez pas à contacter votre conseiller Altro LLP à tout moment pour tous vos besoins juridiques.
Toronto: 416.477.8150
Montreal: 514.940.8000
1.888.GO.ALTRO
À PROPOS DE NOUS
Fondée en 1988, l'équipe d'Altro S.E.N.C.R.L. offre des services supérieurs de fiscalité, de planification successorale et d'immobilier transfrontaliers et nationaux aux particuliers et aux familles fortunés du Canada et des États-Unis. Le cabinet assiste également ses clients sur des questions complexes de planification d'entreprise et fiscale internationale et nationale. Dirigé par l'associé directeur David A. Altro, avocat de la Floride, conseiller juridique canadien, conseiller juridique étranger et notaire du Québec, auteur des livres de premier plan OWNING US PROPERTY THE CANADIAN WAY, 3e édition , ainsi que AMÉRICAINS VIVANT AU CANADA: SOURIEZ, L'IRS VOUS REGARDE , notre équipe est idéalement positionnée pour répondre aux besoins des clients avec des bureaux dans les plus grandes villes métropolitaines du Canada de Montréal, Toronto, Calgary et Vancouver et partout aux États-Unis. Floride, Arizona et Californie. Notre équipe d'avocats agréés aux États-Unis et au Canada a la capacité unique de créer des plans fiscaux et successoraux, puis de mettre en œuvre des structures juridiques conformément aux lois des juridictions pertinentes des deux côtés de la frontière. Altro LLP célèbre plus de 30 ans de haut niveau constant d'expertise juridique, de connaissances, de service et de professionnalisme auprès de clients du monde entier. Pour en savoir plus sur nos services, veuillez visiter les sections « Notre expertise » et Blog de notre site Web.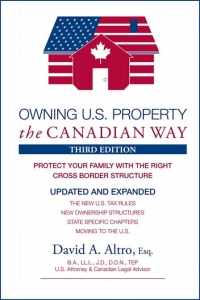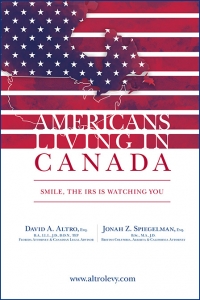 ACTUALITÉS TRANSFRONTALIÈRES
Chez ALTRO LLP, nous sommes des experts dans notre domaine et sommes souvent interviewés à la télévision et à la radio ou cités dans les journaux, revues et magazines. Nous encourageons également nos avocats à améliorer continuellement leurs connaissances et à se développer professionnellement avec la publication d'articles écrits sur les domaines du droit pratiqués dans notre cabinet. Cliquez sur les liens ci-dessous pour voir les articles les plus récents de l'associé directeur David A. Altro dans le Globe and Mail et dans le Advisor's Edge Journal, ainsi que l'interview de David avec Global National pour leur segment Money 123, ou consultez la section Cross Border News de notre site Web pour plus de nouvelles.
DOMAINE DE SPÉCIALISATION
NOTRE ÉQUIPE
Avec 30 ans d'expérience, l'équipe d'Altro S.E.N.C.R.L. est fière d'offrir à ses clients une vaste expertise juridique associée à un niveau de service et de professionnalisme unique.
RENCONTREZ VOTRE ÉQUIPE JURIDIQUE
Veuillez remplir le formulaire suivant et nous répondrons rapidement à votre demande.
CLIQUEZ POUR EN
SAVOIR PLUS SUR: